Decided to spend some time studying Peter Reinhart's Whole Grain Breads.  An interesting read as he details his experiences over time with different breads throughout his life and how his interactions with people, customs and attitudes influenced his evolution in bread baking.  His goal was to ultimately create a whole grain bread that actually tasted good.  After a lot of trial and error and with the help of minions of amateur recipe testers, he wrote this book, which is pretty much a sequel to The Bread Baker's Apprentice.
My objective was to bake a multi-grain bread that my wife would eat, although I was quite curious as to whether or not I would like it. She is a bit of a health nut these days and will only try my sourdough loaves in small bites, although I do think she takes some larger bites while I'm not around  

A fascinating description of biochemistry, going into depth about the make-up of wheat, flour and enzymes, protein, starch, fermentation and how all of these factors influence each other to create great tasting bread.  He has developed a technique using delayed fermentation, using soakers and either a biga or wild yeast pre-ferments.  He refers to a biga as a pre-ferment using commercially available yeast as opposed to a starter that is created from wild yeast.  He compares his technique (the process of combining the soaker, biga and final dough ingredients) as being similar to combining epoxy components.  See photos below.
After studying his book, I decided to dive right into making his Multigrain Hearth Bread.  Just about all of his recipes are the same, except of course for the ingredients.  They include making a soaker and biga on Day 1, followed by combining these on Day 2 with the final dough ingredients.  Because the biga undergoes delayed fermentation in the refrigerator overnight, it is ready to bake in a relatively short amount of time: 45-60 minutes of bulk fermentation, followed by 60 minutes of proofing.
Although Reinhart spends a lot of time describing how to make a Mother starter, which can be used in place of the biga, I decided that after spending at least two weeks making Chad Robertson's Tartine starter, that I would take the quick way out and just use a biga using instant dry yeast.  I will eventually make the starter from scratch and compare flavors and sourness, but didn't want to waste the time at this point.
So here is the recipe and accompanying photos:
Day 1:
Soaker:
56.5 g (or 2 OZ if that is easier) whole wheat flour (I used Bob's Red Mill - Hard Red Wheat)
4 g salt (Kosher)
170 g bottled water
170 g of any combination of cooked or uncooked whole grains.  I used 100 g of cooked whole wheat berries and 70 g of uncooked flaxseeds.
Mix all the ingredients together for about 1 minute until all the flour is hydrated.  Should look like thick porridge, but it does get thicker as time goes on. Cover with plastic wrap and let it sit on the counter for 12-24 hours.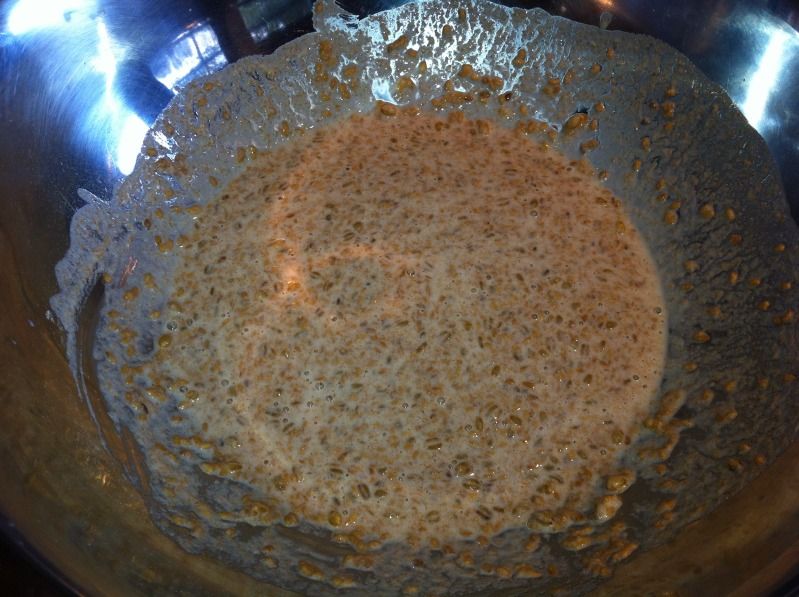 Biga:
227 g of whole wheat flour
1 g instant yeast
170 g of bottle water at room temp.
You can use a equal amount of active starter instead if you prefer.
Mix the ingredients together until it forms a ball of dough.  Using wet hands, knead for about 2 minutes until it is fully hydrated.  Should feel tacky.  Let it sit for 5 minutes.
Knead again for 1 minute with wet hands.  Dough should become smoother but still tacky.
Cover with plastic tightly and put it in the fridge overnight, for at least 8 hours.
 


Two hours before mixing the final dough, remove the biga from the fridge.  It should have risen somewhat:


 
Final Dough:
Use all of the soaker
Use all of the biga
56.5 g whole wheat flour
5 g salt
7 g instant yeast
14 g of honey, agave nectar or sugar or brown sugar
14 g melted butter
have some extra whole wheat flour ready for adjustments
Using a metal bench scraper, chop the soaker and the biga into 12 smaller pieces.  Sprinkle each with some flour to keep them from sticking.  I don't know whether he meant 12 pieces each or a total of 12 combined, but I don't think it makes any difference.


Combine the soaker and biga in a bowl along with the rest of the ingredients, except the extra flour. This is  the epoxy part.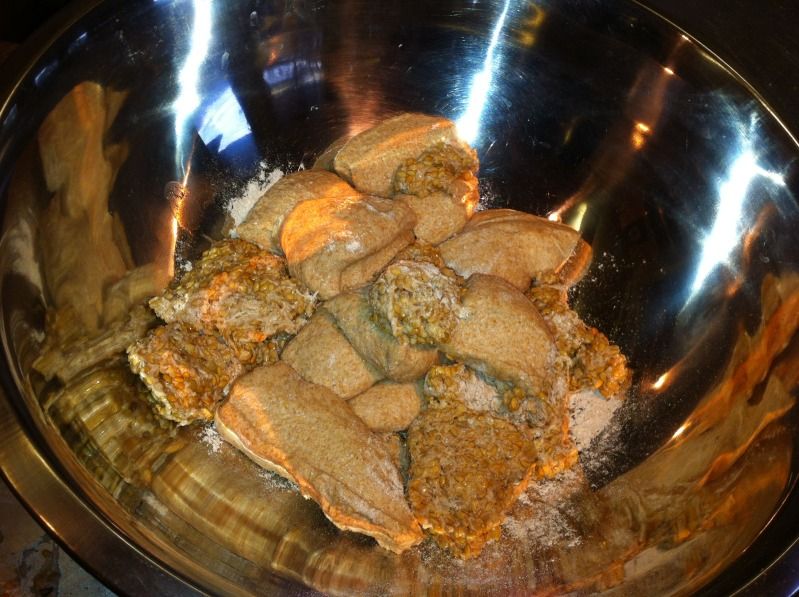 Stir together vigorously or knead with wet hands for 2 minutes until all ingredients are integrated.  The dough should be soft and slightly sticky.  If not, add more flour or water as needed.


Put some flour on your work surface and remove the dough ball and knead for 3-4 minutes until the dough feels soft and tacky but not sticky.  You will have to add flour to reduce the stickiness.
Let the dough rest for 5 minutes while you prepare a lightly oiled bowl.  
Resume kneading for 1 minute and make any final adjustments.  The dough should pass the windowpane test at this point.  If not, let rest and then continue to knead for another minute till it does.
Form the dough into a ball and place it in the oiled bowl.  Roll to coat with the oil.  Cover with plastic and let it sit for 45 - 60 minutes till it has risen to 1 1/2 times its size.
Turn on your oven to 500 degrees with a dutch oven along with its lid.
Gently transfer the dough to a work surface and shape into a boule, place in a flour lined proofing basket, top side down and cover with plastic.  Let rise for another 45 minutes until it has risen 1 1/2 times.


Place the dough in the dutch oven bottom side down.  Score the top of the dough and, cover and place in the oven.
 
Reduce the temperature to 450 degrees and bake for 20 minutes.  After 20 minutes remove the lid and bake for another 25-30 minutes until the crust is brown.  Internal temp should be at least 200 degrees.  Remove from oven and place bread on cooling rack for at least a n hour before cutting.  


Great crust and very moist crumb.  The temp was 205 degrees.  Probably the best whole grain bread I have ever tasted.
My wife's only comment was that it needed more salt.  She did eat it though.