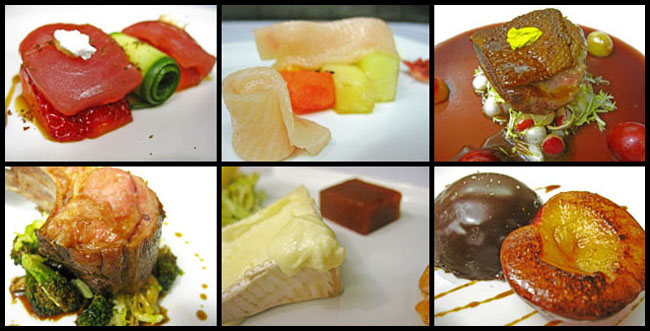 Wine dinners are always so much fun; an intimate environment where people can interact with the wine maker and share their passion for everything food and wine related. On Friday, June 17th, we hosted special guest, Ray Coursen, owner of Elyse Wines. While their home base is in Yountville, Ray sources grapes from different regions all over Northern California, including the Naggier Vineyard, which is located in the Sierra foothill's town of Grass Valley.


When I visited Ray in Yountville and tasted through his wines, we discussed what kind of foods we craved with every new sip. With their complex finishes and sometimes unorthodox techniques, Ray's wines inspired a unique menu.


ahi-strawberry "nigiri"
Elyse 2010 Rosé
This course was originally supposed to be an amuse bouche of foie torchon with roasted apriums. Yet, as is my nature, I can't leave good enough alone and I've been retooling my torchon recipe using a couple different techniques. This time around, it didn't turn out how I wanted. Not to mention, because of our late start to Summer, apriums weren't yet available. But it all worked out for the best.


Ray generously donated a case of his 2010 Rosé. It has a beautiful, crisp mouth feel with a clean and refreshing flavor structure, especially when served chilled on a blistering summer day. There was a slight hint of strawberry and the tingling of the acid on my palate gave me the slightest perception of effervescent carbonation, even though there was none present in the wine.


I had just received some beautiful A+1 ahi from my fish guru, Domi. As you can see in the picture, the ahi is a dark, rich red; not that flaccid pink color you see in a lot of low-end sushi cases. That pink color, by the way, is set by smoking lower grades of ahi with carbon monoxide.


We butchered the Ahi into "saku" and then cut nigiri-style slices. We then trimmed up some strawberry halves to make a platform for the ahi, much like a mound of rice. Since pickled ginger was a little too harsh for this presentation, (it would have blown away the delicacy of the Rosé), we opted instead to serve a slightly pickled strip of cucumber as a "palate cleanser."


The whole thing was sauced with a little bit of our home made citrus teriyaki and a slight sprinkling of sumac to enhance some of the slight citrus notes I picked up in the Rosé. It was garnished with a little piece of fizzy, which will fizz and sparkle in your mouth, a beautiful sensation when followed by a sip of Rosé.


Ahi and strawberries are always a great combination, especially when strawberries are at their peek. It was also Ray's favorite course of the night. At the end of the dinner he commented, "Everything was great, but the ahi with the strawberries just blew my mind!"



hamachi belly sashimi, prosciutto di parma, dehydrated roasted sesame oil, melon salad
2008 L'Ingénue, Naggier Vineyard

Oh hamachi belly, my arch nemesis for this menu. I've served hamachi belly many different ways, but when it came to this menu, I just kept over thinking it. I had about three iterations of this dish, including two failed components that I tried to experiment with the day before the wine dinner. In fact, I spent the Thursday before futilely testing a new concept that would ultimately end up in the trash.


The day of the wine dinner, I took a deep breath and realized I was forcing it. I was trying to make this hamachi dish something that it wasn't, and quite frankly, it was fighting back. Hamachi belly is such a beautiful, succulent piece of fish - my job was to leave it alone and let it do its thing...for the most part.


After the hamachi and I came to an understanding, it ended up being my favorite dish of the night.


The L'Ingénu is a complex white wine with an uncharacteristically long finish. I wanted to play off of some of these finishing notes; the slight smoke and citrus would go great with the prosciutto di parma. The fattiness of the hamachi and prosciutto would be cut nicely by the wine's acidic bite. The melon salad was there to round out flavors and make a bridge between the hamachi and prosciutto.


The sesame oil is mixed with tapioca maltodextrin, an extremely light weight bulking agent. The cool thing is, when it hits your palate, the maltodextrin melts away, rehydrating the sesame oil back into its original form. This is especially convenient when pairing with a wine, allowing the guest to try different components together without the sesame oil running all over the plate, possibly taking over the dish.


roasted duck breast, bing gelée, spring radish, seared rainiers, soy-duck glace
2006 Le Corbeau - Hudson Valley
In last month's newsletter, our featured seasonal ingredient was cherries. I wrote about a dish I did a few years back that consisted of a pan-roasted duck breast and a Bing cherry reduction sauce. It was simple, tasty, and an instant hit. While pairing duck and cherries isn't the most original idea ever, it's damn tasty.


When I first tasted the Le Corbeau, it screamed out for cherries. Mind you, it didn't taste like cherries; often when I pair food with wine, I'm looking for complimentary flavors, not foods that taste like the wine. Pairing a wine that taste like blackberries with an actual blackberry dish will often cause the two to cancel each other out. But if you pair with a contrasting yet complimentary flavor affinity, that can lead to an interesting and inspired dish.


Another thing that struck me about the Le Corbeau was its finish; it had a lingering spice. This is usually caused by "un-ripe tannins" that will completely dry out your mouth. But as I tasted the wine again and again, I realized that my mouth wasn't dry or being overwhelmed with tannins; yet this spicy note lingered on the finish.


"What is that spice on the finish," I asked Ray. "I know it's not tannin; I just can't place it."


"We coil up dried grape vines and pitch them in during the fermentation process."


"Is that a common practice?"


"No!" He chuckled. "No one else is that stupid."


And I'll be damned; it worked. It really worked. The spice was absolutely screaming out for duck, but it wasn't until a few weeks later that I was able to match that flavor with food. We were having a late Winter with almost no Spring in California which allowed us to buy some heirloom radish varieties that were much more mild then usual. Once the Summer sun starts to heat up, radishes become extremely spicy. Lacking the overbearing warmth of the sun, they still have a distinct radish spice, but it's much more subdued on the finish, allowing you to appreciate complexities in the radish that one simply cannot taste during the mid-summer months.


Wanting to control the amount of radish each guest received per bite, we parisienne balled a mixed case of radishes which yielded little spheres about the size of a large English pea. This was mixed with a frisée salad that paired nicely with the sweetness of the cherries, helping to tame the spice of both the radish and Le Corbeau.



petite rack of lamb, roasted broccoli salad, honey-anchovy aioli
2007 Howell Mountain Zinfandel
Looking at this dish, it lacks the panache and presentation of the previous three courses. Yet sometimes simple is good. As a passionate young cook I often find that self-editing will reveal the best possible dish. When I took a sip of the Elyse Howell Mountain Zin, this lamb preparation was simply what I wanted to eat with this wine. 


The rack of lamb was sous vide at 133°F/56°C for an hour and a half. After cooling the lamb, it was then seared to order and butter-basted to bring the core temperature back up, yielding a perfectly mid-rare piece of lamb with a beautiful roasted crust. It was served on top of a roasted mushroom and broccoli salad and dressed with a honey-anchovy aioli.


I know the aioli might sound a little weird, but think of it in the context of a Caesar dressing. In its emulsified state, Caesar is basically an aioli with parmesan, anchovy fillets and other ingredients incorporated. Now think of what happens when you take this same home made Caesar-on-steroids and add white boquerone anchovies and a 50 year aged sherry vinegar; only you add a little too much vinegar to really give it a tangy kick. That sour tang is then balanced with a dash of apple blossom honey to bring the dressing into focus.


Then imagine taking broccoli and wild mushrooms and frying them at 400°F, giving them a quick char, and dressing with this aioli. The dish is completed with a full reduction pan sauce, meaning that we don't use any starch thickeners. Instead, for this sauce in particular, we took about 5 gallons of veal and duck stock and reduced it down to about 2 quarts, reinforcing at each stage of reduction, straining multiple times, and finishing with a splash of Howell Mountain Zin and a few pats of butter.


"cheese & wine" - pierre rober, abbaye de belloc, livarot coupe
2006 Cabernet Sauvignon, Morisoli Vineyard
Ahh, the Morisoli Cab. Ray produces a few different Cabernets, all from different vineyards. They way he puts it, "You're either a Morisoli Guy or a Tietjen Guy."


To make things even more interesting, the Tietjen Vineyard is directly across the street from Morisoli. What's more, Robert Parker and the Wine Enthusiast scored both wines an equal 90 points. I had to make up my own mind, which should be expected, but is none the less a daunting task when the wine maker is watching you taste from across the counter expecting you to choose a side; to decide "what kind of guy you are."


"I'm a Morisoli Guy," I finally concluded. "The Tietjen is great, but the Morisoli is what I want to pair food with and in my mind, that's what I always go back to. What wine do I want to 'cook for'."?


"I'm a Morisoli Guy too," Ray admitted.


So what does this mean?


The Elyse Cabernet produced from the Tietjen Vineyard is what I would call an "instant gratification wine." If you want to drink a big, California Cab by itself, this is the wine to drink.


The Morisoli on the other hand makes you earn it. It's not instant gratification. Up front, it's subtle yet complex. The wine was so cohesive that it was hard for me to put my finger on any one flavor. But the finish; oh the finish! It went on for decades, complex and ever changing from second to second. A good food wine is all about the finish; the flavor structure that lingers on your palate, ready to enhance the next bite of food, at the same time, the food enhancing your next sip of wine.


Ray's pairing idea was brilliant. "With this, I think we should pair cheese."


"Absolutely!" I agreed. Wine and cheese are a time-tested pairing made in heaven. The problem was, finding cheeses that could not only stand up to this Cab, but enhance it.


I choose Pierre Robert, my favorite triple cream cheese, Abbaye de Belloc, a sheep's milk cheese with a subtle pecorino tang without the salt, and Petit Livarot. Petit Livarot is a washed rind cheese with a distinct, "barn yard aroma" that is actually much milder on the palate then it is on the nose. Bite for bite, this was probably the best flavor pairing of the evening.



flourless chocolate cake, seared plums, cayenne, aged balsamic, smoked sea salt
2006 Cabernet Sauvignon Port
The Elyse port has an amazingly complex finish. While this port is definitely "sweet," it's not so overbearing that it kills your palate, making everything taste dull or sour in contrast.


It was Ray's idea to do a flourless chocolate cake which turned out to be serendipitous. One of the newest additions to the Stella team is Kevin, our executive pastry chef. This guy kills it on a daily basis. His techniques are incredibly solid only to be matched by his recipes.


I'm not a huge chocolate fan, usually too bold for my palate. Just a personal preference. And I'm especially not a fan of flourless chocolate cakes, which are usually dense, chewy pieces of formed chocolate. Yet Kevin has made me a convert. His flourless chocolate cake recipe is amazingly simple and will be posted in an upcoming article.


The chocolate cake was served with aged balsamic syrup and seared plum. The plum was sprinkled with a small pinch of cayenne to give depth and dimension to both the chocolate and the port. The cake itself was sprinkled with a little smoked sea salt; smoke always being a great flavor to pair with sweet.