Stella Bread Video Index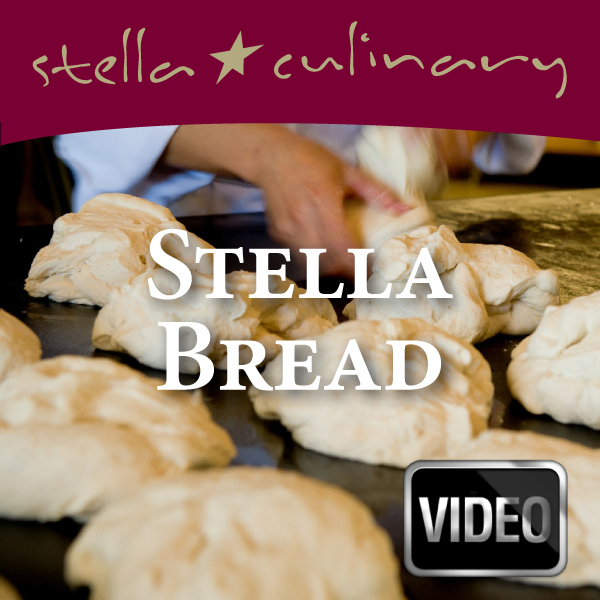 Learning how to make and bake a great loaf of bread can be one of the most rewarding ventures in the kitchen. But bread recipes aren't enough; to bake great bread, one must understand the underlying techniques of what makes a good loaf. This video series will cover everything from the baker's percentage, basic and advanced baguettes, how to create and bake with a sourdough starter and much more. This video series will also cover specialty breads like brioche, quick breads like waffles and pancakes, muffins and of course pizza. Check the bottom of this page for further bread baking resources including recipes, recommended books and tools, websites and audio lectures.

If you have a question about bread baking, bread techniques or want to share a favorite recipe of your own, head on over to our bread baker's forum to post all of your questions and comments.
Never Miss A New Video! Subscribe To Free Updates Below.
| iTunes | RSS | YouTube |
| --- | --- | --- |
Stella's Bread Baking Series - Video Index
| Video and Show Notes | Description |
| --- | --- |
| | This video will teach you what the baker's percentage is, why it's important and how to use it. |
| | This video will teach you how to make a great baguette in almost any oven. |
| | How to make a poolish sourdough starter, which we'll later use to bake sourdough breads. |
| | We take that starter and bake our first sourdough loaf, a 70% hydration boule that uses a large percentage of poolish starter for a quick rise, a small amount or whole wheat for a complex flavor, and a cast iron dutch oven to replicate a traditional hearth. |
| | In this video we'll be making one of my new favorite breads, an Eastern European style brown bread. This bread has a unique, complex flavor that comes from the addition of coffee, molasses, fennel seed, caraway and balsamic vinegar, just to name a few (oh yeah, did I mention the cocoa powder?). |
| | This video takes our Basic Sourdough Bread Recipe and adds parsley and pancetta. It's great served lightly grilled with a little olive oil, topped with piece of sliced tomato and basil or for grilled cheese. |
| | Video will demonstrate how to make savory caramelized onion scones. |
| SB 8| Why Does My Bread Dough Collapse? | In this video, I answer a viewer question concerning bread dough collapsing. |
Skip To Other Stella Culinary Indexes
Recommended Bread Baking Books
Bread Baker's Apprentice by Peter Reinhart

Peter Reinhart is one of my all time favorite authors and a noted expert in the field of bread baking. The Bread Baker's Apprentice has great explanations on bread fermentation, how to delay fermentation for maximum flavor and how to create and use a natural starter. If you're just starting out on you journey towards making great breads, this book is a must have.

Artisan Breads Every Day by Peter Reinhart

Reinhart uses the concept of delayed fermentation to work great artisan bread recipes into a modern, busy schedule. Great artisan bread doesn't have to be labor intensive, as demonstrated in this book. With a little advanced planning, a refrigerator and basic ingredients anyone can produce excellent artisan breads on a daily basis.

Crust and Crumb by Peter Reinhart

In Crust and Crumb: Master Formulas for Serious Bread Baker's, Peter Reinhart gives you a deep understanding of common bread techniques. Using what Reinhart calls "Master Formulas," this book teaches various styles of bread, (focaccia, sourdough, whole grain, etc.), giving you a master formula for each, which allows you to make numerous variations.

Tartine Bread by Chad Robertson

Tartine is one of the "preeminent" bakeries on the West Coast of the United States. Located in San Francisco, CA, Tartine bakery is known for its rustic bread with an open, airy structure. In Tartine Bread, Chad Robertson takes you through the process of making a "natural starter" which is then used to bake numerous variations on Tartine's famous country loaf.

Whole Grain Breads by Peter Reinhart

Another great book by Peter Reinhart, this one exploring different methods for making flavorful whole grain breads. Most notable is Reinhart's "Epoxy" method, in which he does a pre-soaker of a whole grain flour and later combines with a pre-ferment. This process yields a flavorful and less dense loaf of whole grain bread. Whole grain breads are extremely flavorful and have numerous benefits; this book will show you how to actually make whole grain breads taste good! ;-)

Jim Lahey became a rock star in the culinary world when he popularized the now ubiquitous "No Knead Method." As we've discussed in various podcasts episodes, kneading is required to properly form the gluten network responsible for a well risen loaf of bread. What few people understand and what Lahey preaches however is that a gluten network will "form itself" when enough water and time are added to the equation. This approach yields rustic bread with an open, airy crumb.

Jim Lahey takes his no-fuss, no-knead method to the realm of pizza, making this loved classic approachable and delicious. Lahey's approach is the same in the sense that he prefers a high hydration dough that is risen over a long period time and minimally handled to create a strong but open gluten network. Lahey's approach accompanied by his imaginative toppings and flavor structures makes this book a must have for all pizza aficionados.

Bread Builders by Daniel Wing & Alan Scott

This has to be one of my all-time favorite bread books. My copy's binding is tattered and worn, many a page is dog-eared with notes and "a-ha" moments scribbled in the margins. If you are new to bread baking, this is not the book for you. However, if you want a deep understanding of naturally leavened artisan bread, look no further. The second half of the book also deals with constructing your own wood burning masonry oven, the bread geek's ultimate tool.

American Pie by
Peter Reinhart

Take an epic journey across America and Italy in search for the perfect pizza. Just reading about the origins of modern day pizza and how it has evolved from Sicilian and Neapolitan Styles to the Neo-Neapolitan, Chicago Deep Dish and California style make this book worth the price. Add in Reinhart's personable, story-telling style and solid recipes that were exhaustively tested before printing, makes this book an invaluable asset to anyone who's interested in pizza. If you're going to get one book on pizza. this would be it.

Laurel's Kitchen Bread Book - Laurel Robertson

An extremely influential book on baking whole grain breads. The recipes are often cited by professionals and home baker's alike. This book also takes you through the process of grinding your own grains for whole wheat breads if that's something you want to get into. Notable whole grain bread recipes include the now famous Flemish Desem Loaf (which was actually inspired by Alan Scott of Bread Builders), Whole Grain Oatmeal Bread and Pita, just to name a few. Buy this with Reinhart's Whole Grain Bread and you'll be set!

The Bread Bible by Rose Levy Beranbaum

Emphasizing the science and chemistry behind bread baking with 150 detailed bread recipes, The Bread Bible is an authoritative reference guide for the experienced and novice baker alike. The "Understanding" and "Pointer's for Success" sections help to ground the reader in a deeper understanding of the techniques and methods behind making great breads. The Bread Bible was also ahead of it's time by making the decision to list each recipe's ingredients by both volume and weight; a definite plus.

Brother Juniper's Bread Book by Peter Reinhart

Before Peter Reinhart was world famous baker, author and instructor extraordinaire, he was a simple artisan baker and a humble member of a religius brotherhood. In his break out book, Brother Juniper's Bread is part metaphor and argument for a simple and fulfilling life while instructing the reader in beautiful and rustic artisan breads. But it's not all metaphor and slow rise loafs; the book also contains recipes for cookies, stromboli, sticky buns, pizza crust and "The World's Greatest Brownies."
Recommended Bread Baking Tools

Escali Digital Scale



This is the scale that I use in all my videos. It's sturdy, weighs in grams and ounces, has a tare function and takes AA batteries (which is awesome if you've ever accidentally bought a scale that takes watch batteries). If you're serious about bread baking, or accurate cooking in general, you need a scale!


Heavy Duty Stainless Steel Mixing Bowls


Every kitchen needs a set of sturdy, heavy duty, mixing bowls. These are the type of bowls that I use in my videos when mixing dough or other ingredients.


Set of Sturdy Measuring Cups


If you're new to baking and don't yet have a set of measuring cups, these are the ones that I recommend. NOT for weighing dry ingredients, that's what your scale is for! These however, are useful for measuring liquids or other ingredients that don't have to be super exact in any given bread recipe.

Measuring Spoons



Good for measuring things like baking soda, baking powder, vanilla extract, etc. If you don't already have a set of measuring spoons, you'll eventually need to purchase some as you get more into baking, especially when making enriched dough or quick breads like brioche and muffins.


2" Hotel Pan



This is the hotel pan that is use in our baguette video to generate steam in the early stages of the baking process. It is this "steam injection" which results in a beautiful, crackly crust that is one of the most important attributes of a well made baguette. Hotel pans can also be used for braising, casseroles, poaching, ice baths, etc. For more info, watch our video on Service Pans.


15.5" X 6" Baguette Pan



This is the baguette mold that I use in our "How To Make A Basic Baguette Video." They are oven safe with a black finish to help prevent scorching or uneven transfers of heat. If you're just starting out, baguette molds are a useful piece of equipment to have in your kitchen.

Canvas Couche For Proofing Artisan Bread


When you're ready to take you're bread game to the next level and create artisan style hearth loaves, this canvas is a must have. Couche, which literally means couch in French, is a piece of canvas that is rubbed with flour, pleated, and used for free form proofing of artisan bread.

Camwear Food Safe Plastic Container (6qt)


Commonly referred to as "cambros" in professional kitchens, these containers are great for proofing bread, especially when fermenting dough with a natural, sourdough starter. The acids present in a sourdough starter can react with metal if given enough time, which makes this a good storage option.

Baker's Razor Blade



Also known as a "lame," a baker's razor is extremely helpful when scoring or "docking" bread. Even though a sharp pairing knife can be used, a lame is particularly well-suited for this task. Once you get used to using a lame, you'll have a hard time ever going back to your pairing knife.

10 Pack Of Razor Blades For Baker's Razor


If buying a lame, I would recommend buying one or two replacement packs or razors to keep around. Nothing's worse then trying to dock a beautifully risen loaf of bread with a dull razor, ripping the dough instead of slicing, while watching your hard work deflate before your eyes. Trust me, I learned this one the hard way.

Canvas Lined Banneton



These canvas lined bannetons are used for proofing artisan style "hearth" bread. If you plan on baking lots of high hydration bread (70% hydration or more), then these are helpful to have around, as they hold the dough's shape while proofing. This is demonstrated in our sourdough boule video.

Wicker Banneton or Broform


These baskets are hand woven with natural imperfections that give your bread a unique look. Used just like the canvas lined bannetons to the left, but without the piece of canvas, your finished loaf will have a beautiful, spiral design.


17" X 3" Baguette Brotform (Banneton)


Used just like the other bratforms described above, this will give your baguettes a unique look while providing support during the proofing process. Make sure you measure the width of your baking stone and oven before purchasing.

Oval Banneton (Braform) for Raising 1# Loaves


Used just like the other bannetons previously described, this proofing basket has sufficient room to proof a single 1#/453g loaf of artisan bread. The oval shape makes these especially good for sandwich style hearth loaves.

Half Sheet Tray, Professional Quality


The half sheet tray is a must have for any kitchen. The uses beside baking are too numerous to mention here but you will come across many bread recipes and video techniques that require the use of a sheet tray.

Wire Roasting/Cooling Rack (Fits Half Sheet)


One of the most important steps in the bread baking process is allowing your finished loaf to cool properly. Place finished loaf of bread on this cooling rack to insure that your crust stays crisp and crackly.


Lodge 3qt Pre-Seasoned Combo Cooker


This is the cast iron combo cooker that Chad Robertson recommends you use when baking the Tartine Bread Country Loaf. A versatile piece of equipment, this combo cook can be used as a skillet, pot, etc. The 3qt size dose limit how large of a loaf you can bake. If this is a concern, I would recommend the 7qt dutch oven to the right.


Lodge 7qt Pre-Seasoned Cast Iron Dutch Oven


This is the large dutch oven that I use in our Basic Sourdough Bread Loaf Recipe. The cast iron is charged with heat and the bread is baked inside the dutch oven with the lid on for the first 20 minutes of baking. This process is responsible for generating a crackly crust.

Maverick Professional 3 Line Timer


This is my all-time favorite kitchen timer. It allows you to have 3 different timers going at once which is convenient if you're constantly multitasking in your kitchen. The timer is of sturdy construction, and at $10/a pop, you can afford to abuse it a little.

14" X 16" Inch Baking Stone


Great for pizzas or artisan style hearth bread, a baking stone is pre-heated with your oven before baking. Because the stone retains heat well, it will transfer it to the dough much more efficiently then that of a baking sheet or your oven's hot air. This results in a superior crust and oven spring.


Norpro Bamboo Pizza Peel


Great for loading pizzas and artisan breads onto a baking stone. They also double up as a stylish platter to serve your finished pizza, sliced bread, charcuterie, cheese plates, etc.

Ateco Plastic Bowl Scrapper


Handy tool for mixing dough and other ingredients as wells as releasing a proofed dough from its container as shown in our sourdough boule video.

Bench Scrapper (aka Dough Knife)


Great for portioning dough, scraping your work surface and forming high hydration loafs. This is a must have tool for even a hobbyist bread baker.

13" X 4" X 4"Pullman Loaf Pan


Named after the Pullman Railway Cars, these bread pans were originally created to save space in train galleys. However, the lidded pan caught on with baker's because it produces a perfectly square loaf and a chewy crust. Great for Texas toast!


Victorinox 10" Bread Knife


Solid, sharp, bread knife that isn't overly expensive. Although I have a weakness for expensive Japanese knives, I prefer to buy solid yet inexpensive bread knifes because they're a pain to sharpen. Use this for a couple of years and discard once it becomes dull.

Waring Belgian Waffle Iron


I've had this waffle maker for a few years now and its still kicking! If you're into thick, airy and crusty waffles, this is the way to go.

9" Loaf Pan



Standard 9" loaf pan used for baking sandwich bread.

12" Non-Stick Loaf Pan



Elongated 12" loaf pans, good for enriched loaves such as cinnamon swirl, pull apart style buns, etc.
---
Quick Note About These Resources: The above books and tools are ones that I (Jacob) have used and am familiar with. While this list is by no means exhaustive with it's recommendations in quality baking tools and books, please understand that I can't in good conscience recommend that the Stella Culinary Community spend their money on products that I haven't tried or don't believe in. If you feel I've left a vital tool or book out of this list, please feel free to mention it in the comments section below.
---
Not Enough? Here are Even More Resources For The Die Hard Bread Baker!
Resource Type
Link and Description

Stella Culinary Audio Lectures on Breads

SCS 18| Four Pillars of Bread - We kick off our bread baking series with a lesson on the four pillars of bread; yeast, water, salt and flour. Understanding these four ingredients and how they effect your overall loaf will allow you to produce a better, more consistent product.

SCS 19| Twelve Steps of Bread - The twelve steps of the bread baking process are discussed.

SCS 20| Bread Classifications - In this episode we discuss the various ways breads are classified and take a more detailed look at the science behind the bulk fermentation process.

Stella Culinary Forum Threads Discussion Bread

Bread Recipes

Found on StellaCulinary.com

Found on Other Websites

External Resources

The Fresh Loaf - A community and forum for hardcore bread baker's. Lots of information on bread technique, sourdough starters and different methods. It also hosts the best article I've ever read on lactic acid fermentation and the large role it plays in the flavor development of sourdough bread.
King Arthur Website - Not only does King Arthur produce a great line of high quality wheat flours but the also have a very informative blog and recipe section.
Joe Pastry - Great blog on all things baking!