Stella Culinary School Podcast Index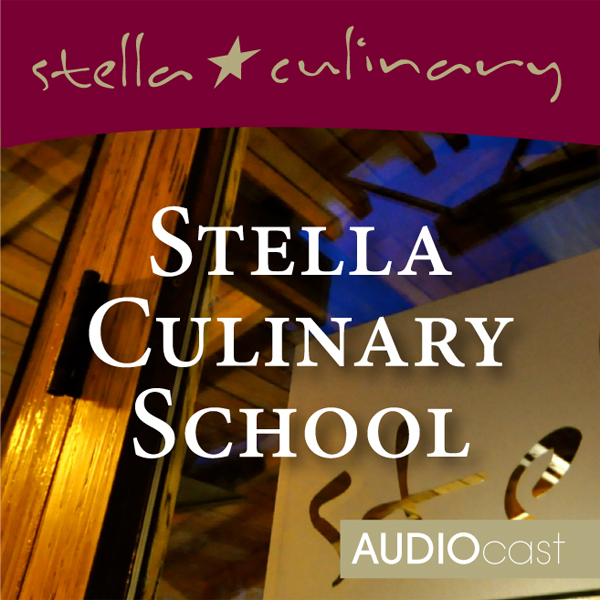 The Stella Culinary School Podcast is our flagship audio series that started it all. Originally known as "The Free Culinary School Podcast," this ongoing series starts with the most basic skills, with each episode building on the next. Hosted by Jacob Burton, Executive Chef of The Cedar House Sport Hotel and Stella Restaurant, this podcast strives to replicate the same lectures that a student would receive at top culinary schools around the world.

As Chef Jacob puts it, "This is the most important content that we produce here at Stella Culinary. The only difference between an amateur cook and a professional cook is their deep understanding of the science and technique that makes great food possible."

This podcast was created to give its listeners a firm understanding of basic and advanced cooking techniques, with a focus on food science.
Episode & Show Notes
Episode Description
Take Quiz
Listen Now
Stella Culinary School Episode Index
SCS 1| Basic Knife Skills
Basic knife skills are discussed including the difference between German and Japanese steel, how to properly hold your knife, and what knives you really need in your kitchen. For video techniques, check out our complete Culinary Knife Skills Course, also available for free on iTunes.
Take The Culinary Knife Skills Quiz
Listen Now
SCS 2| Stocks Part 1
Veal stock is extensively covered including proper technique for making both white and roasted veal stock, the difference between a stock and a broth and tips for making a great tasting stock.
See Below
Listen Now
SCS 3| Stocks Part 2
Stock series is finished with techniques for making poultry stock, vegetable stock & shell fish stock. Also cutting edge techniques for clarification are discussed.
Take The Culinary Stocks Quiz
Listen Now
SCS 4| Blanching
Basics of blanching are discussed including the make up chlorophyll and how to keep green vegetables green and why root vegetables are blanched differently than green vegetables.
Take Blanching Quiz
Listen Now
SCS 5| Basic Starches
Risotto, polenta and mashed potatoes are discussed.
Riostto, Polenta & Mashed Potato Quiz
Listen Now
SCS 6| Sauteeing, Searing & Pan Roasting
Part 1 of a 3 part series on basic cooking techniques. In this episode, how to sauté, sear and pan roast.
Sautéing, Searing & Pan Roasting Quiz
Listen Now
SCS 7| Braising, Poaching & Roasting
Part 2 in our basic cooking techniques series. In this episode, how to braise, poach, roast and the scientific principles needed to produce the best product possible.
Braising, Poaching & Roasting Quiz
Listen Now
SCS 8| Frying, Confit & Deep Fat Poaching
Basic cooking techniques series is finished with a lesson on frying, confit, and deep fat poaching.
Frying, Confit & Deep Fat Poaching Quiz
Listen Now
SCS 9| Hollandaise
We start our five part series on the French Mother sauces with a lesson on hollandaise including proper technique, the scientific principals of an emulsion, and some common secondary sauces that use hollandaise as a base.
Emulsions & Hollandaise Quiz
Listen Now
SCS 10| Sauce Veloute
In part 2 of our mother sauce series we talk about sauce veloute and some of its common derivatives.
Sauce Veloute and Thickeners Part One Quiz
Listen Now
SCS 11| Béchamel Sauce
We continue our discussion segment on thickeners for sauces and soups. In the technique segment, we talk about sauce béchamel and its derivatives. In the Culinary Q&A, Jacob answers an interesting food science question regarding the egg/acid paradox.
See Below
Listen Now
SCS 12| Sauce Tomat
We continue our five part mother sauce series with a lesson on Sauce Tomat, the base for many modern tomato sauces. In the discussion segment we finish our series on thickening, talking about purees and modern food gums like Xanthan and Ultratex 3. In the technique segment we go over Escoffier's Classic Recipe for Sauce Tomat and then discuss some more modern variations.
See Below
Listen Now
SCS 13| Sauce Espagnole (Brown Sauce & Demi-Glace)
In this episode, a lesson on the king of all sauces, Espagnole and Demi-Glace. In the discussion segment we go over the evolution of this sauce from Escoffier to modern day. Then, in the technique segment we discuss the importance of Sauce Espagnole as a base sauce and the influence it's had on modern sauce making. In the culinary quick tip, the three finishing components of a pan sauce and why they're important.
Thickener's Part Two, Bechamel, Tomat and Espagnole Quiz
Listen Now
SCS 14| Greens & Vinaigrettes
In this episode we talk about how to make a balanced salad using different types of greens, the science behind vinaigrettes and flavor structure. In the culinary quick tip, how to properly wash and store your salad greens.
Salad Greens and Vinaigrettes Quiz
Listen Now
SCS 15| Classic Salads & Creamy Dressings
In this episode, we talk about how to make creamy style dressings, like ranch, caesar and thousand island and what kind of greens to serve them with. In the technique segment, a quick history lesson on three classic American salads, Caesar, Louie and Cobb, including recipes.
Listen Now
SCS 16| Composed Salads
In this episode, we bring our salad series full circle and talk about how to create a composed salad using proper flavor structure and contrasting components. In the culinary quick tip, how to candy nuts!

Listen Now
SCS 17| Canapés
We finish our Garde Manger Series with a lesson on canapé

s, including proper plating, execution and flavor structure.

Listen Now
SCS 18| Four Pillars Of Bread
We kick off our bread baking series with a lesson on the four pillars of bread; yeast, water, salt and flour. Understanding these four ingredients and how they effect your overall loaf will allow you to produce a better, more consistent product.
Listen Now
SCS 19| Twelve Steps of Bread
The twelve steps of the bread baking process are discussed.
Listen Now
SCS 20| Bread Classifications
In this episode we discuss the various ways breads are classified and take a more detailed look at the science behind the bulk fermentation process.
Listen Now
SCS 21| Sourdough Starters & Preferments
We discuss how preferments can take your bread to the next level by providing better extensibility, oven spring, and complexity of flavor. In the technique segment; how to make your own sourdough starter.
Listen Now
SCS 22| Let's Bake Some Sourdough
We finish our epic bread series with an in depth, overly geeky lesson about sourdough bread baking. Episodes 18-21 are recommended prerequisites for this lesson.
Listen Now