Sauces And Soups Video Index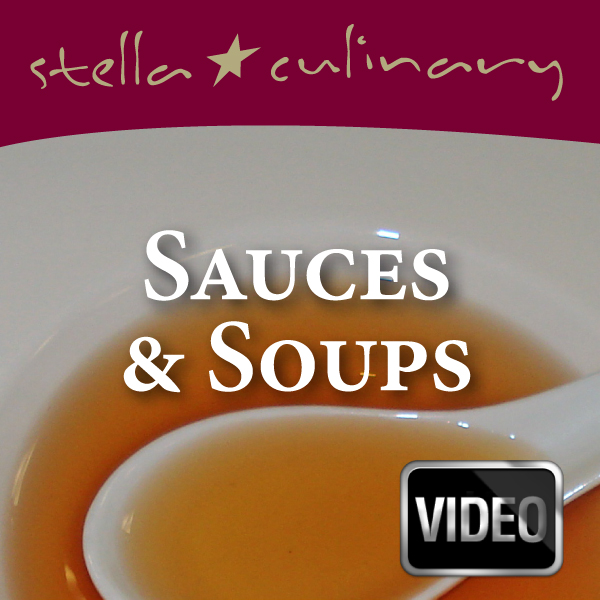 Welcome to Stella Culinary's Sauces And Soups HD-Video-Podcast. This series will start by demonstrating basic sauce making techniques, including stocks, pan sauces, and mother sauces, and then progress to more advanced creations. These videos are meant to be an accompaniment to The Stella Culinary School Podcast, which is our flag-ship audio lecture series. It is highly recommended that you listen to Stella Culinary School Podcast Episodes 2, 3 & 9-13.

If you have requests for future videos, please leave them in the comment section below.
| Watch Video | Description |
| --- | --- |
| SNS 1| Roasted Veal Stock | This video will take you through the process of making a roasted veal stock. For the audio lectures, recipes and to take the Stocks Quiz, check out http://www.stellaculinary.com/stock |
| SNS 2| Chicken Stock | How to make a classic chicken stock. Great for sauces, soups and braising. |
| SNS 3| Vegetable Stock | Learn how to make a classic vegetable stock. |
| SNS 4| Beurre Blanc | Beurre blanc is an emulsified sauce using butter and white wine. It goes great with fish, poultry and vegetables. |
| SNS 5| Pan Reduction | One of the most important sauces to know how to make. Perfect for any protein that you may pan roast. This is a basic technique that every cook should know and understand. |
| SNS 6| Stabilized Beurre Blanc Using Xanthan Gum | This video will teach you how to make a stabilized beurre blanc using Xanthan Gum. |
| SNS 7| Roux | This video will teach you how to make a roux, a classic fat & flour mixture used to thicken sauces, soups and gravies. We will also go over some of the guidelines for making a roux, and best practices for incorporating it into a sauce. |
| SNS 8| "Culinary School" Bechamel Sauce | This video will teach you how to make Bechamel sauce, one of the five French mother sauces. This is a milk based sauce, thickened with a white roux and the most common version of bechamel taught in culinary schools today. In future episodes we will explore earlier versions of the bechamel sauce. |
| SNS 9| Escoffier's Bechamel Sauce | This video will demonstrate Escoffier's version of Sauce Bechamel, a milk based French Mother Sauce that is thickened with a white roux. |
| SNS 10| Classic Mornay Sauce | How to make a classic mornay (cheese) sauce which is a secondary sauce (derivative) of bechamel, a French Mother Sauce. |
| SNS 11| Cauliflower Soup | This video will teach you how to make a cauliflower soup base that can be served as is or doctored with different components and garnishes. To see how we currently plate this soup at Stella, click here. |
| SNS 12| Reinforce and Reduce Chicken Stock | This video will demonstrate how to concentrate roasted chicken stock by reducing and reinforcing its flavors. |
| SNS 13| Classic Fish Stock | This video will teach you how to make a classic fish stock. |
| SNS 14| White Chicken Stock - Classic Recipe | How to make a classic, white, chicken stock. |
| SNS 15| Sauce Vierge | A raw, emulsified tomato sauce that is great for summer salad. |
| SNS 16| Classic Mayonnaise | In this video, I demonstrate a classic mayonnaise recipe that uses egg yolks, canola oil, mustard powder, lemon juice, kosher salt and white pepper. |
| SNS 17| Simple Tomato Sauce for Pasta and Pizza | A simple, fresh, tomato sauce made that can be used to dress a simple pastas dish or pizza. |
| SNS 18| How To Make Consommé | Learn this classic technique that clarifies stocks and broths. |
| SNS 19| Understanding the Five French Mother Sauces | An introduction to the Five French Mother Sauces, a core concept necessary for understanding sauce making. |
| SNS 20| The Three Modern Mother Sauces | A new way to look at sauce creation. |
Skip To Other Stella Culinary Indexes
5 comments