Description
This is one of my all time favorite vinaigrettes, and we use it so often at Stella, we've started referring to it internally as our "house vin." Between the bite of the sherry vinegar, the sweetness of the honey and the tang of the stone ground mustard, this dressing goes great with just about any variety of greens. We currently use this vinaigrette for our butter lettuce salad, which will be demonstrated in an upcoming "completed dish" video.
Ingredients
70 g
Mustard (Stone Ground)
85 g
Olive Oil (Extra Virgin)
Instructions
Start by adding all the ingredients, including the oil, to the blender.

Blend ingredients, starting the blender on its lowest speed, and gradually working it up to the fastest speed possible. As the vinaigrette starts to come together, an emulsion will form, illustrated by the vortex hole about the size of a quarter shown in the bottom right hand picture below. Once this vortex is formed and the vinaigrette appears to have a smooth consistency, simply turn of the blender.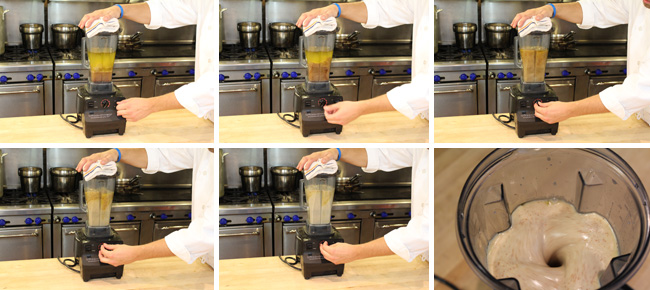 Store the sherry-shallot vinaigrette in a food safe squeeze bottle and refrigerate. It will hold in the refrigerator for two weeks.