Description
This is a great savory scone recipe that is simple and quick to make. The addition of the caramelized onions adds depth of flavor, making these scones perfect for breakfast or an afternoon snack. No matter what time of day you choose to serve them, it is highly recommended that you accompany these scones with a strong cup of coffee.
Ingredients
1 c
Onions (Julienned & Caramelized)
1 c
Butter (Frozen & Grated)
Instructions
Start by mixing all the dry ingredients together (flour, sugar, baking soda & powder, salt).

Gently rub grated butter into flour, being carful not to allow the butter to soften. Keeping the butter cold during the mixing process is an important part in creating a flaky scone.

Gently mix in caramelized onions, sour cream and milk.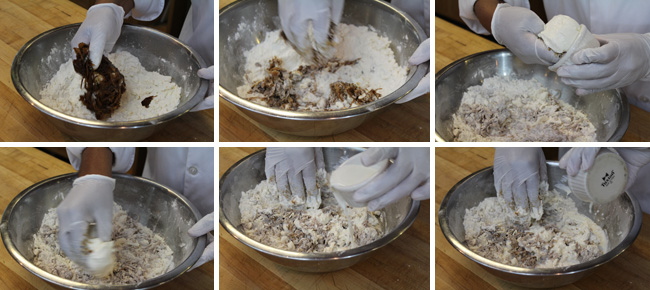 Mix scone dough by hand for 30-60 seconds, just long enough so that the dough comes together. If the dough is over mixed, the gluten in the flour will start to develop, which will result in a tough, bread like texture.

Place dough on a well floured surface and roll into a rough looking rectangle, about 1/2-3/4" thick. Trim the exterior edges square. This scrap dough can be reformed into more scones.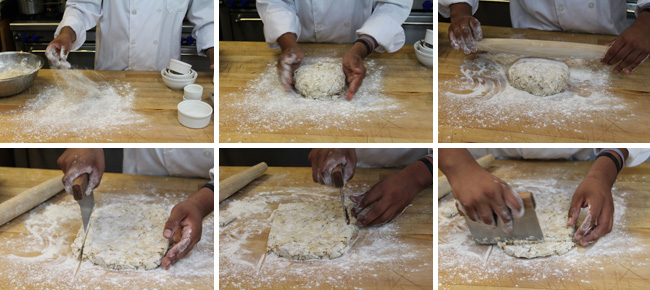 Split rectangular dough lengthwise down the center to form two narrow rectangles. Alternating diagonal with horizontal cuts, portion rectangles into triangles, yielding 10-12 triangular scones.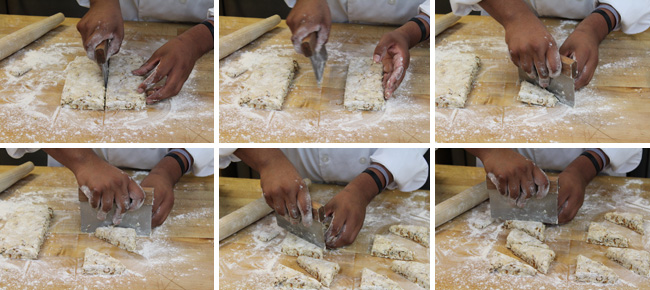 Bake scones in a 350º/176Cº oven for 15-20 minutes, or until a medium golden brown. If baking in a non-covection oven, raise temperature to 375ºF/190ºC, rotating the baking sheet 180º after the first 10 minutes to ensure even baking. Allow scones to cool for 10-15 minutes before serving.