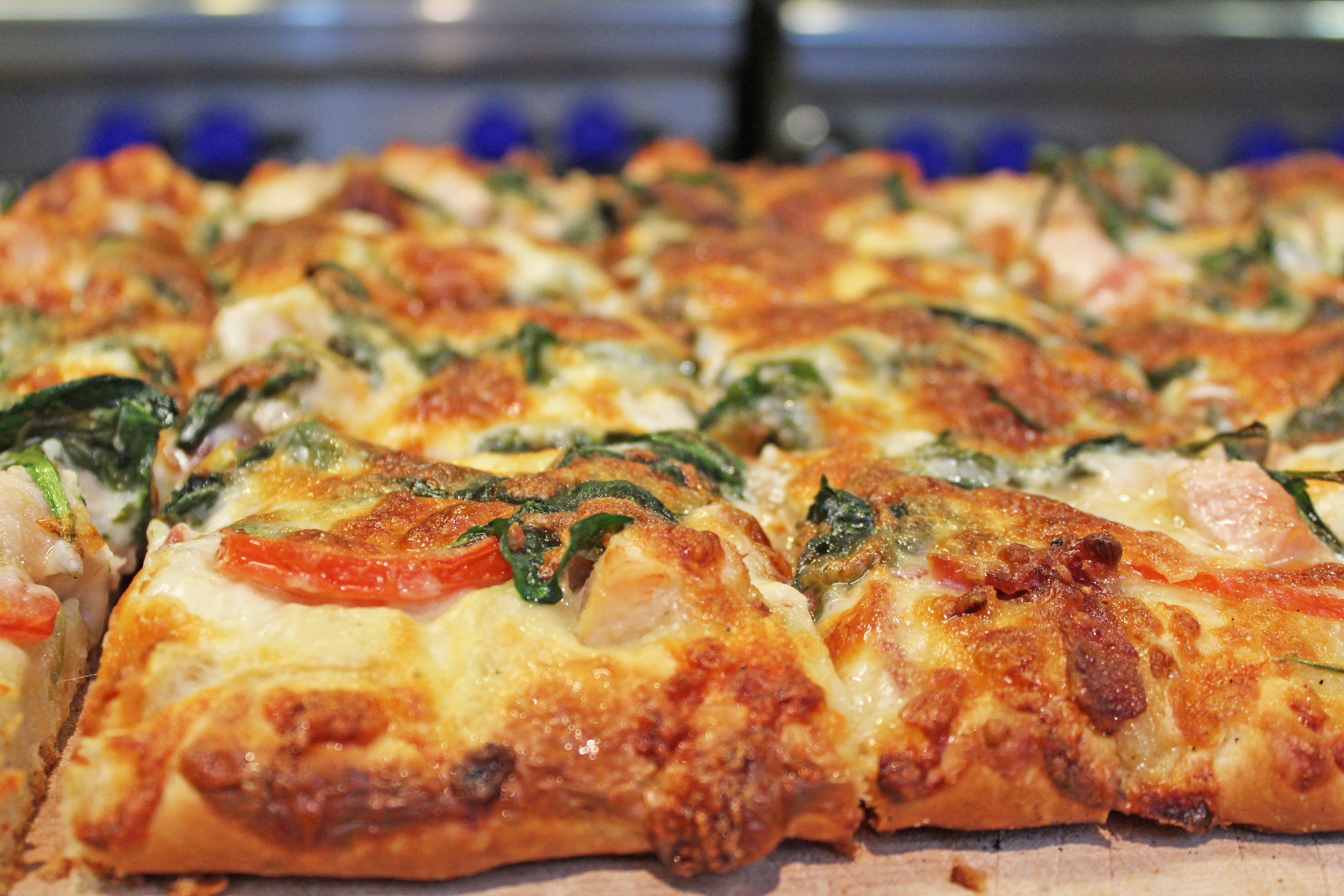 Description
This Sicilian style pizza dough is similar to a focaccia. The thicker dough can stand up to heavy toppings, and creates a sturdy pizza that reheats easily. These pizzas are traditionally cut into squares using scissors and sold by weight at Italian, quick-service pizza shops. The Sicilian style pizza is great for large groups and parties.
Instructions
Whisk yeast into warm water and allow to soften (about 3 minutes).
Add olive oil to water, and then stir in flour. Mix just long enough to so that the flour is no longer dry.
Cover with plastic wrap or a damp towel and allow to rest (autolyse) for 30 minutes.
Add salt and sugar, and knead on #2 using the dough hook attachment of a stand mixer for 4 minutes. Turn off mixer, allow dough to rest for 3-4 minutes, and knead on #2 for another 4 minutes.
Alternately, knead the dough by hand using the slap and fold method demonstrated in this sourdough boule video (skip to 2:50).
Round dough, place in a covered container, and bulk ferment for 2-3 hours, or until the dough has doubled in size.
Punch down dough and stretch into a 13 X 16" rectangle. Proof for 45 minutes before topping. You can also punch down the dough, round, and allow the dough to proof in a rounded shape. Then stretch, top, and bake. This latter approach is more appropriate for a production style environment.
Preheat oven with a baking stone to 500ºF/260ºC for 30-45 minutes. Place pizza directly on stone, and immediately turn oven down to 425ºF/218ºC. Bake for 30-35 minutes, or until the bottom of the crust is a crisp golden brown (see accompanying video for more details).