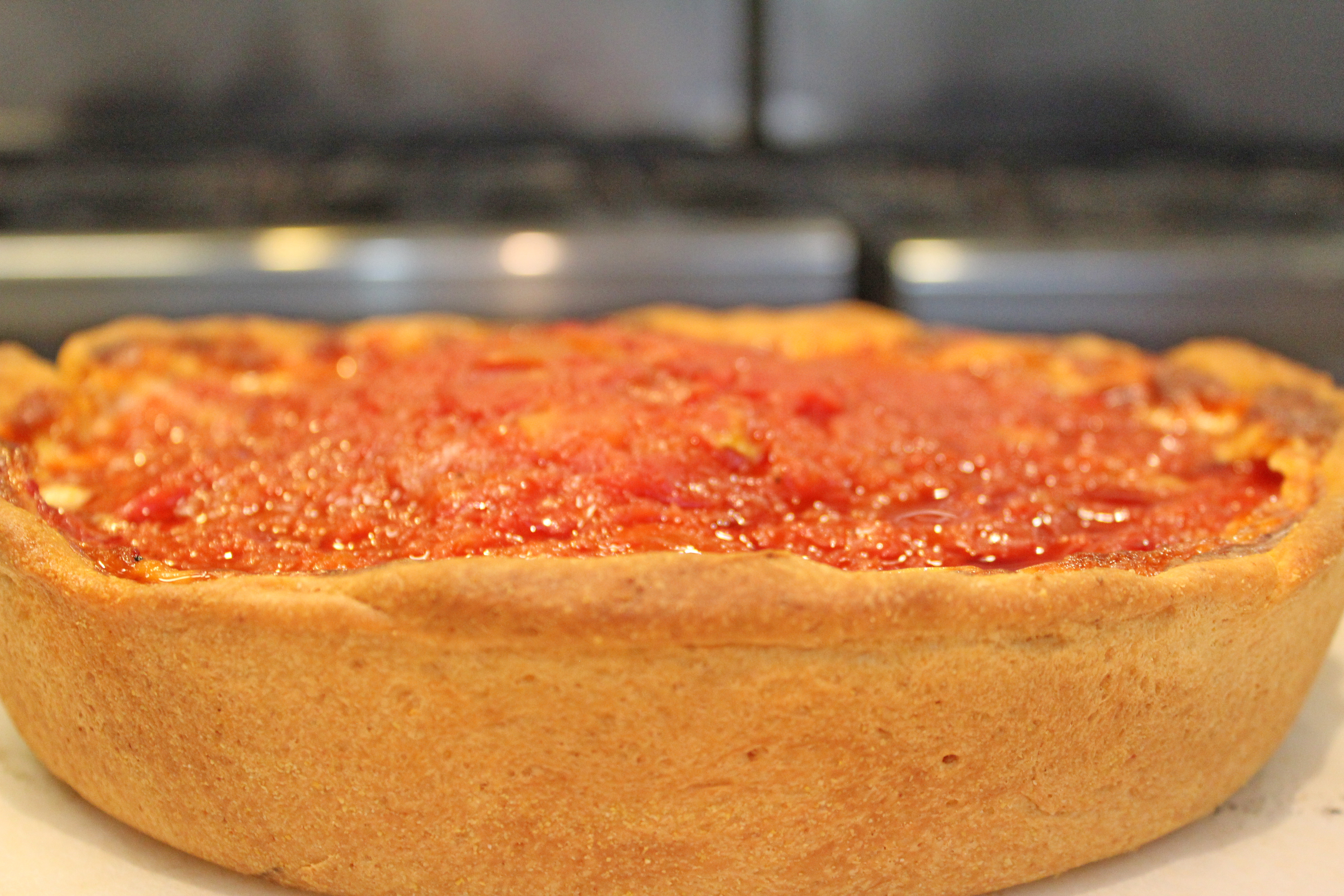 Description
The Chicago Style deep dish pizza crust is a high fat / low hydration dough. This gives the crust a flaky texture that browns easily and repels the moist fillings, keeping the crust crisp.
Ingredients
50 g
Butter, Melted (20%)
3 g
Yeast, Instant (1.4%)
Instructions
Stir together flour, melted butter, and olive oil.
Dissolve yeast in water and add to flour mixture.
Mix together just long enough to form a shaggy dough. Cover with plastic wrap and allow to rest for 30 minutes at room temperature.
Add salt, and mix on speed #2 with dough hook attachment for 4 minutes. Allow dough to rest for 3-4 minutes, and then knead of #2 for an additional 4 minutes.
Round dough and place in an airtight container to bulk ferment for 2-3 hours, or until dough has doubled in size.
Degas dough, form into a tight ball and allow to proof for 30-60 minutes.
While the dough is proofing, preheat oven with a baking stone to 500ºF/260ºC.
Flatten dough into a disc and place in a 10" cast iron pan, pressing the dough along the inside rim of the pan until the top of the crust is even with the top of the pan. The dough should be spread evenly, and crimped along the top.
Layer slices of mozzarella cheese into the bottom of the pan, followed by ground, loose, sausage and top with pizza sauce.
Place cast iron pan directly on pre-heated pizza stone, and reduce heat to 425ºF/216ºC. Bake for 35-45 minutes, or until the crust is a dark golden brown.
Remove from oven and serve immediately.
Chicago Style Pizza Sauce
100% Drained, Crushed or Diced Tomatoes (9 in 1 Brand is classic)
0.5% Kosher Salt
0.5% Sugar
0.5% Red Wine Vinegar
0.4% Dried Oregano
Make sure crushed tomatoes are thoroughly drained. Stir in salt, sugar, vinegar and oregano.
Allow flavors to marry for at least 10 minutes before using (best case scenario, make pizza sauce while dough is proofing).
Notes
Although any number of ingredients can be added to a Chicago Style Pizza, it is important to make sure that they do not contain a lot of water. For ingredients such as mushrooms, peppers, etc, that are high in water content, it is advisable to cook first to remove as much excess moisture as possible which will also concentrate flavors. Just like any "pie," if your filling contains too much water, it will not set properly, be difficult to slice and a mess to serve.