In this video, you'll learn how to quickly and efficiently break down a beef tenderloin, resulting in the fabrication of beef filets. These filets are commonly referred to as "Filet Mignon," but technically speaking, the "Mingnon" only comes from the bottom tail portion and is normally cut 1-2" thick. When fabricating larger steaks, "filet of beef" is the more appropriate term. For more information about the beef tenderloin itself, please see below.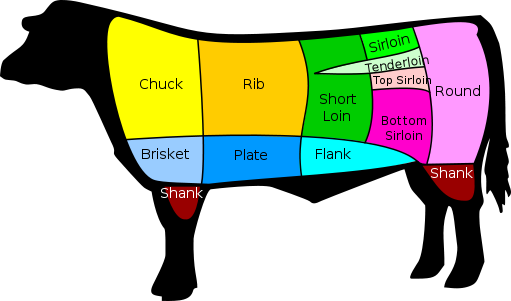 BEEF TENDERLOIN: THE SIRLOIN'S LAZY COUSIN
Located in the back quadrant of the animal just below the sirloin and above the top sirloin, the tenderloin itself is extremely tender because the muscle has a very minimal work load.
To put this into perspective, let's talk real quick about the major muscles that support our tasty, four-legged friends: the shoulders, arms and legs. Fabricated cuts taken from these regions (chuck, brisket, shank & round), contain much more connective tissue and myoglobin.
Extra connective tissue, which is mainly collagen, requires a long, slow cooking process such as braising or slow roasting. This "low and slow" technique will "unravel" the collagen's triple helix, resulting in three separate gelatin strands. Since the collagen has dissolved, it's no longer holding the muscle fibers together, resulting in a texture commonly referred to as "falling off the bone tender."
Conversely, the rib, shortloin and tenderloin do less work, making them more tender cuts of meat with very little connective tissue. This allows for fast and hot cooking methods like searing, pan roasting or grilling. These cuts are generally best served with an internal temp of mid-rare or below (135ºF/57ºC).
However, because these muscles are "lazy", they also contain less myoglobin. Myoglobin is responsible for temporarily storing oxygen delivered by hemoglobin and distributing that oxygen to fat oxidizing proteins like cytochromes. This is important because myoglobin also contains lots of flavor.
In general, the more a muscle is used, the tougher and more flavorful it becomes. The opposite is also true, especially for the laziest muscle in the animal's body, the tenderloin. While it's extremely tender, it contains less myoglobin and therefore less flavor. The reason why people enjoy filet so much is because they equate tenderness with flavor, when really they are two different things.
This is why it doesn't make sense to eat filet of beef at a temperature above medium (135º-145ºF/60ºC). At 140ºF/60ºC, muscle fibers start to tighten and extrude their juices, making them tough and chewy. I know that there are some people out there that absolutely insist on eating their steaks above medium, and my heart goes out to you, it really does. But if you're one of those people who must have a mid-well steak, buy a flat iron or skirt steak and cook the hell out of it. It's at least half the price of a tenderloin, and once you cook a filet of beef above medium, it may as well be a skirt steak anyways.
Bottom line, people eat filet for its texture, and for a chef, it's a blank canvas on which you can paint many different flavors. For me, I prefer to pan roast my filet to mid-rare. While I'm letting it rest, I use the left-over juices and fat to make a pan reduction sauce. Finish with some fleur de sel, fresh cracked black pepper and a side of your choice.
Do you enjoy eating filet of beef? How do you like it prepared and served? Let me know in the comment section below.