What is Pancetta?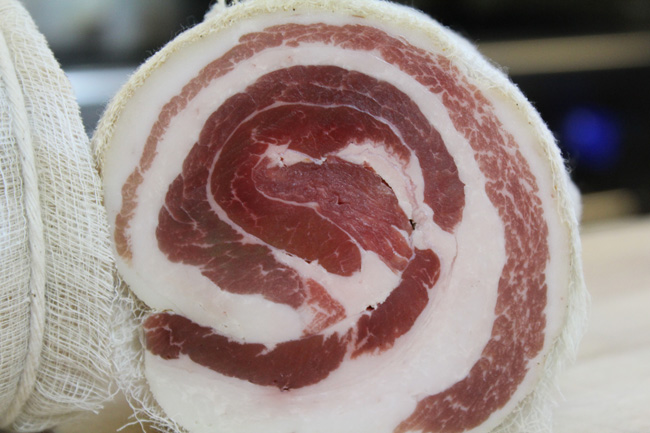 Pancetta in its simplest form is salted and cured pork belly that is native to Italian Cuisine and loved throughout the world. Commonly referred to as "Italian Bacon," pancetta's major difference from it's American counterpart is its lack of smoke. Pancetta is commonly flavored with different seasonings and spices, with each region of Italy, (and chef for that matter), having their own preferential spice blend. Common flavorings include, but are not limited to, black peppercorns, garlic, fennel seed, nutmeg, red chili and coriander. I prefer some less traditional flavors when making my own pancetta at Stella, and so far, the pancetta police hasn't come-a-knockin'. Here's my take:
How To Make Pancetta

Just with any other culinary pursuit, before one even gets started making pancetta, you must first acquire the highest quality products possible. This is even more imperative when making charcuterie, especially a simple form like pancetta, which doesn't have smoke or prolonged cooking to hide the protein's inferiority if bought from a low quality source. Make sure you purchase pork belly from a reputable farm that raises happy pigs, preferably organically fed and all natural (meaning no hormones added). In fact, one of Europe's biggest secrets to their wonderful charcuterie is their happy, fatty pigs.
Unfortunately, the US pork industry had a multi-decade identity crisis, attempting to breed the fat and flavor out of our pork, in a futile attempt to compete with chicken. You can be the most skilled charcuterie expert in the world, yet if you start with an inferior piece of meat from a poorly raised animal, you may as well be attempting the Starfleet Academy's Kobayashi Maru if you're still expecting to produce a tasty piece of pancetta.
Also, while we're on the subject of ingredients, please make sure that your dried spices are fresh. Just because they're dried doesn't mean they have an indefinite shelf life. If your spices came in a pack of 20 that was given to you as a gift two Christmases ago, you might want to look into buying some new spices.
Spices Used
Black Peppercorns
Star Anise
Coriander
Fennel Seed
Mustard Seed
Orange Zest (definitely not traditional but I like it)
Sometimes cloves
Sometimes garlic
Sometimes nutmeg
The spices really can be mixed to taste, using your nose as a guide. Toast spices in a dry pan until they start to release their essential oils and become aromatic. It is mainly this aroma that will be flavoring your pancetta. Grind toasted spices into a fine powder, making sure you have enough to sprinkle on the bottom side of your pork belly with the majority left over to generously rub into the fat cap as shown in the video.
Now that your are spices ready to go, it's time to talk about salt. Whenever making any type of charcuterie, I prefer to use kosher salt, which is designed to easily adhere to pieces of meat. This makes it ideal for the curing process. To the kosher salt you'll be adding some type of sodium nitrite, whether it be pure sodium nitrite or some sort of curing salt mix that is nitrite cut with sodium chloride (standard salt) to make it easier to measure.
As I demonstrate in the pancetta video, I prefer to use pure sodium nitrite, mixing it with kosher salt as needed. This allows me to easily adjust my nitrite levels from batch to batch, as needed for different charcuterie projects. My formula for the curing salt I use in this pancetta video is:
Kosher Salt Weight X .002 (.2%) = Sodium Nitrite Weight added to my kosher salt.
-For Example-
1,000g Kosher Salt X .002 = 2g Sodium Nitrite. Mix kosher salt and sodium nitrite together and you have your curing salt.
A word of warning; 4g of Sodium Nitrite is considered a lethal dose. This is why many charcuterie books recommend you buy pink curing salt, cut with regular salt and died pink. This makes it easier to measure and less likely that an unsuspecting family member will mix it up with the table salt when taking the initiative, (just to prove that miracles do exist), to fill the family salt shaker. But to put this into perspective, maybe during a full moon at the end of February in a leap year, my entire pancetta recipe will contain 4g of sodium nitrite. This means you will have to consume an entire side of cured pancetta to kill yourself. My humble conjecture is, if you consume a whole log of pancetta in a single sitting, sodium nitrite is the least of your concerns and in a weird twist of irony probably won't kill you because you're body is obviously acclimated to substantial forms of abuse.
If using pink curing salt, Michael Ruhlman, author of Charcuterie, recommends every 450g of kosher salt be mixed with 50g pink curing salt (that's 11% pink salt based on the baker's percentage). For more information on Ruhlman's Pancetta Recipe, see the external links section at the end of this post.

Now that you understand the finer details concerning salting and spicing, the rest of the process for making pancetta is fairly straight forward. Take your happy, well produced pork belly, rub it with toasted and ground spices, and generously salt both sides. Place in your refrigerator and allow to sit in salt mix for about 7-10 days. I prefer to press my pork belly with weights during the salting process, but this is just a matter of taste and it will lead to a slightly saltier end product that is more shelf stable. See video at the top of this page for more information.
After the salting period, the pork belly (which is now technically pancetta), is thoroughly rinsed under cold, running water. Most forms of pancetta available in the United States are rolled, as demonstrated in this video recipe, but that is not always the case. Once rinsed, some people prefer to stick a string through one corner of the pancetta and hang as is. Whether or not the pancetta is rolled is purely a matter of taste and style.
At this point, the pancetta will need to be hung in a cool, dark place with moderate humidity for at least 2-4 weeks before enough moisture has evaporated to intensify the "porky" flavor and make it a finished product. Some forms of pancetta can easily be cured for 3 months or longer before serving.
At Stella, I simply hang the pancetta in my walk-in refrigerator, which has a temperature of around 36°F/2°C, and a relative humidity that hovers around 70%. Generally speaking, an ideal "curing room" is about 60°F/15°C with 60% humidity; at least when hanging pancetta. There are three main things that can possibly ruin your pancetta during the hanging process; temperatures over 70°F/21°C, extreme humidity (both high and low), and direct sunlight.
The temperature will allow for harmful bacteria strains to grow in or on your pancetta, but if using salt mixed with sodium nitrite this is fairly rare. What's more common is that the high temperatures will cause the fat in your pancetta to go rancid, as will direct sunlight. If your humidity is too high then the pancetta will never "dry out" or "cure" properly, and if your humidity is too low or non-existent, then the surface of your pancetta will become dry before its interior moisture can evaporate.
Devoid of temperature and humidity extremes, pancetta can be hung in a cool place out of direct sunlight for the 2-4 weeks required for proper curing. After that, loosely wrap finished pancetta in plastic wrap and store in your refrigerator. If properly stored, you're pancetta will last at least three months in the fridge. If the cut end oxidizes and turns grey slightly, simply trim and discard, and continue to serve as normal.