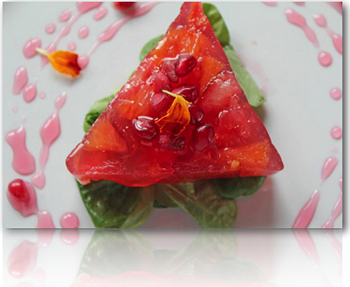 Agar is a gelling agent derived from red algae that is commonly used in Asian cuisine, modern kitchens, and as a substitution for gelatin in vegan and vegetarian recipes.
In a previous lecture series, I discussed how gelatin is commonly used and some of it's common pitfalls. One of the major shortcomings of gelatin is its inability to set in acidic environments. Take for example the winter citrus terrine pictured left; when I first started developing this recipe, I used gelatin. Time and time again, the terrine wouldn't set up as I planned.
When I took the pH of the terrine mixture, I realized it was at 3.2, which is below the acidity threshold of gelatin at 4. When I switched to agar, my setting problems went away, only to be replaced by other issues such as mothfeel and weeping (agar gels tend to leak liquid). But with a little research and a deeper understanding of how agar gels work, I was able to fine tune the citrus terrine to come out exactly how I wanted it.
The purpose of this two part video series is to give the knowledge needed to understand the intricacies of agar gels, allowing you to create your own, unique dishes when gelatin simply won't cut it.
An Introduction to Agar Gels
Although agar has only recently emerged as a common gelling agent in modern western kitchens, it has been used in asian countries for centuries as their go-to gelling agent. A polysaccharide derived from red algae, agar is a great alternative to gelatin when a vegan or vegetarian gel is needed, or when attempting to gel liquids that normally will break down gelatin because of low pH, high alcohol, or proteolytic enzymes in fresh fruits.
One of the unique qualities of an agar gel is "hysteresis," meaning there's a large differential between agar's setting and melting temperature (95°F/33°C and 175°F/80°C respectively). This makes it possible to serve a warm gel using agar, something that isn't possible with traditional gelatin based gels.
Agar also sets rapidly above room temperature (95°F/33°C), within a matter of minutes, as opposed to gelatin, which takes 12-24 hours to fully set, once it's core reaches 59°F/15°C.
The appearance of an Agar gel can range from clear to opaque, depending on what's being gelled and the quality of the agar, and has a texture that ranges from firm to brittle. If too much agar is used to set a gel, the texture can become "crumbly" and unpleasant, especially since the heat from our mouth is well below it's melting point.
However, an agar gel can be made less brittle and given an elastic texture with the addition of sorbitol or glycerol, usually around 1% by the weight of the entire gel being set.
One of the big advantages to using an agar gel is its low pH tolerance, with a range of 2.5-10. This makes it possible to set acidic terrines and gels, and is what we used last winter to create a seasonal citrus terrine with a pH of 3.2. This could not be achieved by using gelatin with its pH tolerance of 4-10.
Agar can also create what's called a "fluid gel;" in this application it's first allowed to set, and then blended smooth in a blender. When transforming a liquid with the viscosity of water into a fluid gel, usually .3% agar is added (based on the liquids weight), hydrated, allowed to set, and then blended smooth.
How to Create an Agar Gel + Common Pitfalls
In this video we're going to go over how to create an agar gel and some of it's common pitfalls.
Agar comes in the form of a white powder, and its use percent ranges from .2% (to set a standard gel) to .5% (for a firm gel), calculated based upon the liquid's weight.
Example:
1,000g Base Liquid
X.002 (.2%)
_________________
= 2g Agar to set a standard gel.
As with gelatin, agar is a hydrocolloid, meaning it can suspend or trap water, but to ensure a satisfactory outcome, it needs to be properly hydrated and dispersed.
The typical hydration procedure for agar is to first dissolve it into the liquid you want to gel by whisking, bringing the liquid to a simmer, and simmering for 4 minutes. At the end of four minutes, blend for 15-30 seconds using an immersion blender, strain, and allow to set. The added shearing power of an immersion blender will ensure even dispersion and proper hydration.
Although a standard blender can be used for dispersion (after the agar gel is simmered for 4 minutes), the rapid speed of the blender blade will incorporate extra air, which can then become suspended in the gel as it sets. These air pockets will reflect light, giving the gel an opaque appearance, instead of clear.
As we talked about in our last video, agar's setting temperature is 95°F/33°C, and will set rapidly at this temperature. This makes agar extremely convenient to use as a gelling agent when you don't have time to wait for gelatin to set, which takes anywhere from 12-24 at 59°F/15°C or below.
Common Agar Pitfalls
Agar is fairly easy to use, but there are some common reasons why a gel will fail or not perform as desired:
Improper Hydration: Make sure the agar is simmered in your base liquid for at least 4 minutes and then mixed with an immersion blender before straining and allowing to set.
Syneresis: Agar gels will "weep" or "leak liquid," causing the gel to dehydrate and not perform as expected, especially when using it to set a terrine that will later be unmolded. This can be counterbalanced by the addition of .1% locust bean gum, calculated by the weight of the liquid being gelled.
Prolonged heating outside of the pH range of 5.5-8, although this is a less common problem. When we make our winter citrus terrine at Stella, with a pH of 3.2, the agar is still simmered in low pH citrus juice for 4 minutes to fully hydrate, without any adverse affect on the gel setting.
Tannic acid (commonly found in red wine and tea), in a known inhibitor of agar gels, but can counter balanced by the addition of 1% glycerol, based on the liquid's weight.
If left uncovered, agar gels will dehydrate, causing them to loose moisture, which will adversely affect the gel's texture. However, agar will swell in the presence of moisture, meaning gels can be rested in liquid containing a complimentary flavor, preserving its texture and enhancing it's taste.
What Is Agar Good At?
Unlike gelatin, agar allows you to create vegetarian/vegan gels (since it's seaweed based), will work in acidic environments, can tolerate high alcohol percentages (about 40%), and is resistant to proteolytic enzymes found in some fresh fruits including kiwi, papaya, pineapple, peach, mango, guava, and fig.
Basic Citrus Terrine Formula:
Because I used the example of the citrus terrine multiple times in our two agar videos, I've listed the formula and process below for reference. Please not that a working knowledge of calculating recipes based on the baker's percentage is assumed.
100% Citrus Supremes and Juice
10% Sugar
1% Salt
__________________________________________________
Add together the weight of above ingredients and then calculate the following:
.3% Agar (To set the gel)
.1% Locust Bean Gum (To keep agar gel from weeping)
___________________________________________________
Drain liquid from citrus supremes.
Combine in a pot with agar and locust bean gum.
Bring to a simmer, simmer for 4 minutes, and then blend with an immersion blender.
Heat citrus supremes in an oven or over a steamer to about 100°F/38°C. This is to keep the agar liquid from setting as soon as it hits the otherwise cold citrus segments.
Combine hot agar liquid with warm citrus supremes in a mixing bowl, gently fold together, and place in a terrine mold lined with plastic wrap.
Optional: place a flat tray on top of the terrine with weights. The pressure will cause the terrine to compact, yielding a more even texture.
Allow to set in the refrigerator overnight.
The next day, un-mold terrine, slice and serve.
Note: The terrine can be pre-sliced and allowed to set in a flavored liquid to increase water retention and enhance overall taste. A good example would be apple or orange juice flavored with fresh vanilla bean, toasted spices, etc. The terrine will then swell with this liquid, giving it extra flavor and a "juicy" mouthfeel.
Agar Spherification
Place a large, tall container of neutral flavored oil (like canola) in the freezer, until it starts to thicken, but pull before it solidifies (about 2-3 hours).
Fill a squeeze bottle with hot agar liquid, and drip into chilled oil. As the agar drops to the bottom of the oil, it will gel into the form of a sphere.
Pass oil through a strainer to remove agar spheres, rinse under cold water, and store in flavored liquid.
Agar Fluid Gel
Set liquid with .3% agar by weight.
Blend smooth in a blender, using an auger to move chunks around until it is evenly blended. Additional liquid or water can be added during the blending process to thin if necessary.
Pass through a fine mesh strainer and reserve in an airtight container.
This "fluid gel" will have the consistency of a medium body mayonnaise, but will have a pure flavor, since the added viscosity is achieved by using a small amount of agar.
Conclusion
As you can see, agar can be used to achieve certain things gels and textures that simply isn't possible with gelatin. For a complete break down of the difference between agar and gelatin, please watch the final video in this series, "Agar and Gelatin Compared."