To properly prep ginger, start by taking a "hand" (showed below, top left) and separate it into "fingers" (top right). Cut off any protruding "nubs" with your knife and then peel with the edge of a soup spoon using a downward scraping motion. Using the edge of a spoon is not only quicker, but it will result in a better yield since all that's being removed is the ginger's paper thin skin.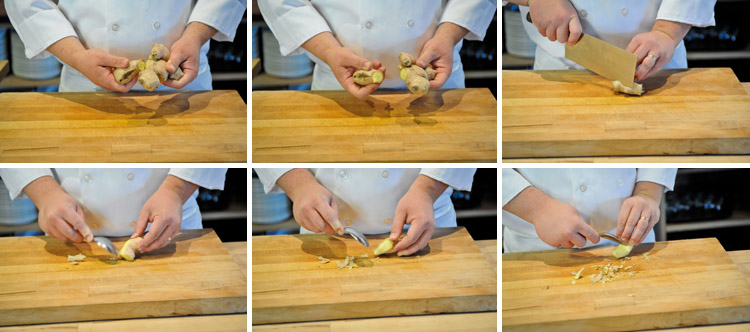 Next, cut the peeled ginger "finger" into round chunks about a quarter to a half inch thick. If using a Chinese Clever, you can effectively smash the ginger rounds with a quick "slapping" motion. If using a traditional chef's knife, simply place the side of the knife blade on top of the ginger rounds and apply downward pressure using the palm of your hand, being conscious to keep your fingers elevated away from the blade.
Using a traditional mincing motion, mince ginger to desired size.