Garnishing your plate with a little sprinkling of parsley is about as old school as it gets. However, it's still a good technique to at least know, not to mention the real purpose of this section - illustrating how to properly mince.
For a more refined mince, start by picking individual leaves off of the parsley stems. If you're just looking for a simple minced parsley and a few stems don't bother, you can always "shave" the leaves off of the stem using an angled, downward, slicing motion.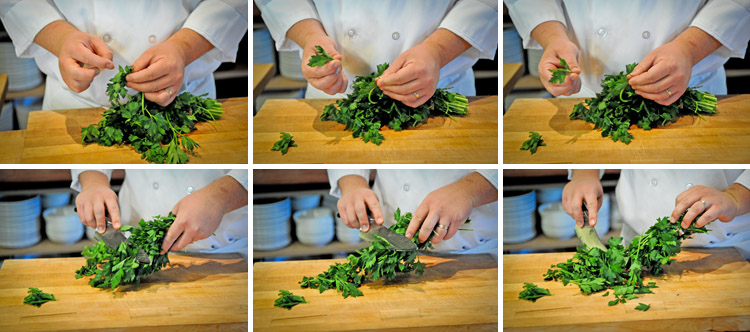 Next, gather the parsley leaves into a tight pile with your guide hand, running your knife though the pile, keeping your strokes as close together as possible. This initial thin slicing of the parsley leaves will give you a good start to your mince. The whole idea is to get your leaves minced to the desired size in as few blade strokes as possible. The more time you gut the parsley leaves (or any green herb for that matter), the more chance you have of the color fading with the aroma and flavor being lost to your cutting board.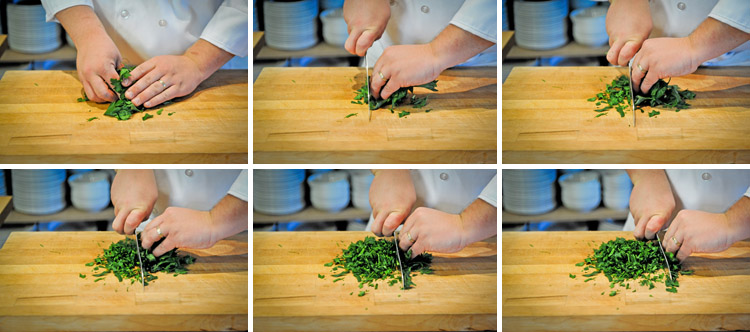 Next, place your guide hand flat on the top tip of your knife. Using the tip of your chef's knife as a pivot point, quickly move the handle of your knife up and down, using a relaxed grip, wrist and arm for great speed. Continue this up and down motion while working your knife through the parsley pile in a radial pattern.
If the parsley gets too spread out, use the edge of your knife to scrape the leaves back into a pile - continue until the desired size is reached. Your final size will rely on personal preference and final application.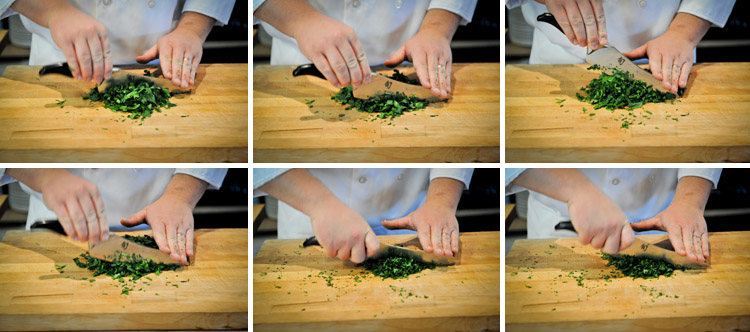 To turn your minced parsley into a traditional garnish for sprinkling, pile it into a stack of strong paper towels. Gather up the corners into a little "coin purse" shape (as shown in the photos below).
Run your parsley "coin purse" under cold water for about 15-20 seconds and then wring it out vigorously. This will release excess chlorophyll from the leaves, giving you a fluffy garnish that spreads evenly. Open up the paper towels and transfer the parsley to a new, dry stack of paper towels. Allow the parsley to dry for 30-60 minutes before using. Store any unused parsley in an airtight container, lined with barely damp paper towels. Will keep for about 4-6 hours.