The video above will take you through the process of creating and plating our ahi sashimi dish that we are currently serving at Stella. If you've already watched the video and just need a quick refresher, you can refer to the step by step pictures below. For more information on acquiring specific ingredients or supporting recipes, please see the notes section at the bottom of this post.
Stella's Ahi Sashimi Plate Up
Start by making cantaloupe caviar using basic inoic spherification. Remember, the caviar has to be made to order or it will become a hard, rubber pebble with little flavor.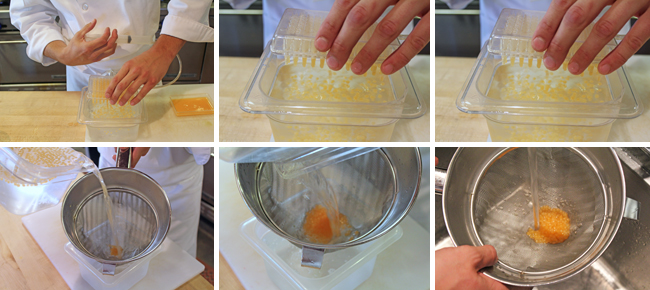 Next, lay out three strips of cucumber that have been thinly sliced lengthwise on a mandolin and pickled in a basic pickling liquid. Using this recipe, allow the sliced cucumbers to "marinate" in the pickling liquid for at least an hour before using. Dabbing them on a clean kitchen towel before plating will wick off any excess moisture and vinegar, giving you a better plate presentation and flavor.

Next, slice the ahi loin that has been fabricated into saku block. Here we're serving a total of 4 ounces of ahi sashimi. You can adjust this portion up or down depending on what you feel is appropriate.

Drizzle some home made citrus teriyaki directly on top of the sliced sashimi, and make a decorative pattern on the plate. The pattern should have some symmetry with equal distancing on all sides in relation to the edge of the plate.

Lay three, drained pickled cucumber strips in the middle of the plate, with each strip slightly overlapping the last. Pay attention to the center of the plate, and make sure there is an equidistance between the cucumber and rim, both with horizontal and vertical placement.
Place a strip of seaweed salad down the center of the cucumbers (making sure to leave some of the cucumber exposed), then lay the sliced ahi on top. Top with the previously made cantaloupe caviar that has been drained and rinsed.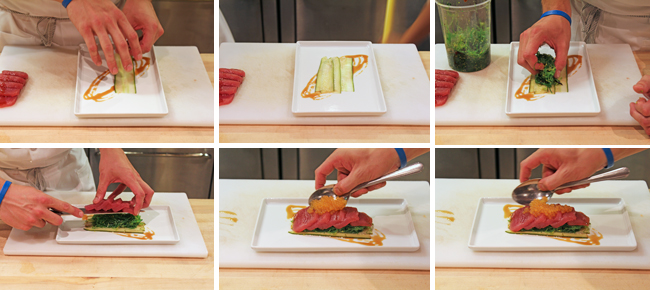 Season ahi and cantaloupe caviar with a small sprinkling of fleur de sel. Garnish the plate with a spoonful of dehydrated sesame oil in opposing corners and serve immediately.