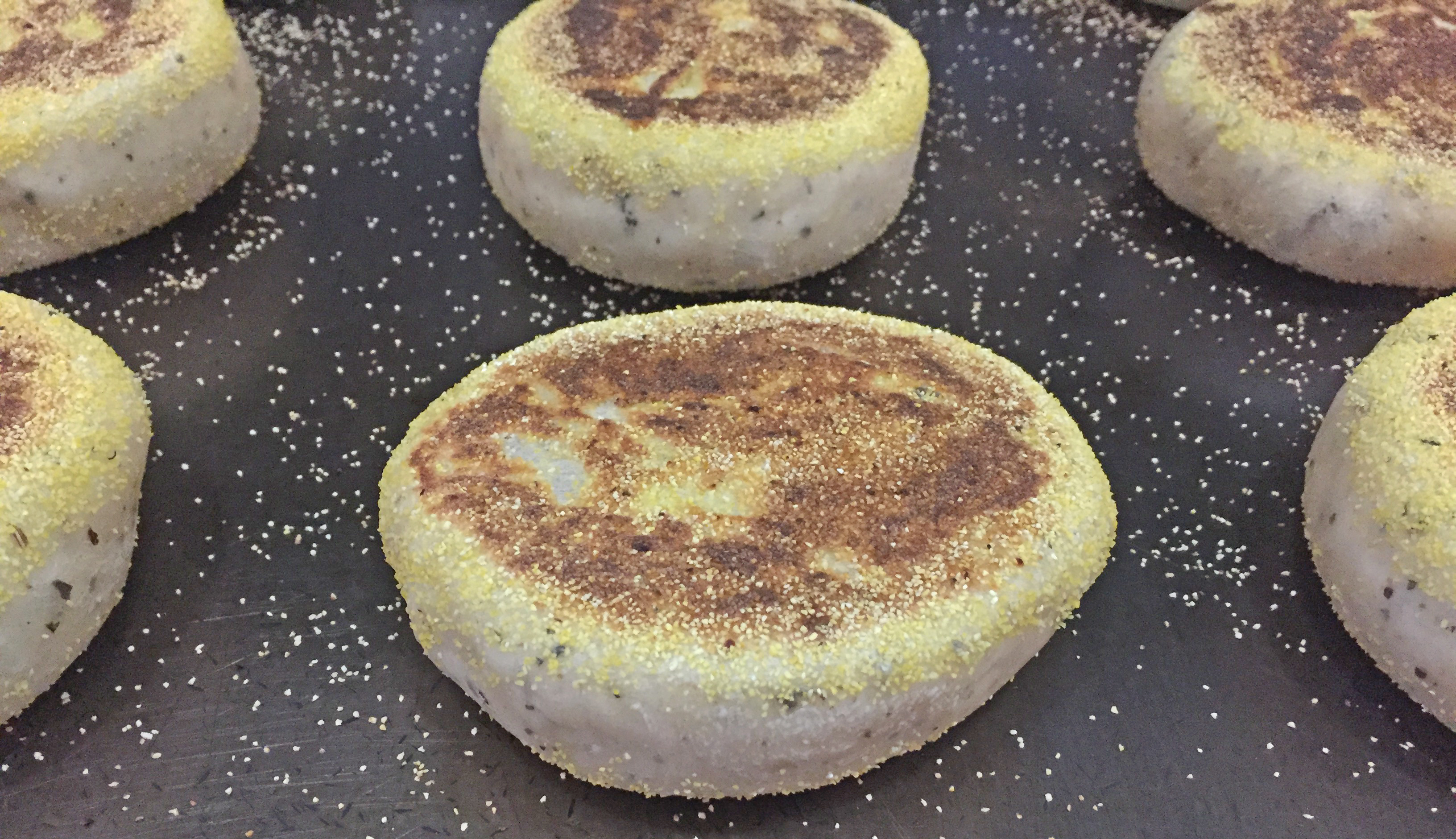 Description
These sourdough English muffins are great simply toasted with butter or used in a sandwich. The Parmesan and herbs were added for a bit more complexity since this recipe was developed specifically for a breakfast sandwich application. However, the herbs and Parmesan can be left out, or swapped for any other flavors you want. Just remember, if you add to much of any extra ingredient to this recipe (say pine nuts), you will get a denser result as the weight of the ingredients will hinder proofing and oven spring.
Ingredients
135 g
Milk, whole (scalded)
13 g
Parmesan Cheese (optional)
1 g
Dried Oregano (optional)
3⁄4 g
Dried Basil (optional)
Instructions
Scald milk by heating to 185°F/85°C, or just until it starts to barely simmer. Cool to room temperature.
Dissolve sourdough starter into milk by whisking vigorously.
Add flour and stir just until incorporated and no more dry flour is visible.
Cover dough with plastic wrap and allow to autolyse (rest) for 30-90 minutes.
Add salt, sugar, Parmesan, basil, and oregano. Knead with dough hook attachment on #2 for 4-6 minutes, or by hand, until dough passes the windowpane test (a small piece can be stretched thin enough to see light through it without tearing).
Allow to bulk ferment for about 3 hours at room temperature, or until dough has doubled in volume.
Divide dough and scale to 85-95g each.
Round dough and place on a sheet a pan lined with parchment paper, sprayed with non-stick spray, and sprinkled with corn meal.
Cover with plastic wrap and refrigerate overnight, or up to two days.
While still cold and covered with plastic wrap, flatten dough balls by pressing down with the palm of your hand.
Allow to proof until doubled in size.
Remove plastic wrap and sprinkle top of muffins with corn meal.
Place on a medium low griddle and cook until each side is golden brown (about 5-6 minutes per side). Do not flip the muffins too early or you will interupt their "oven spring" causing a denser texture.
Bake in a 325°F/163°C oven for 12 minutes.
Allow to cool completely at room temperature before storing in zip-top bags. These will keep for up to 3 days at room temperature, or can be frozen for up to 3 months.
Notes
The hydration rate on this formula is 70% 80%, which is a little on the low side for English muffins. However, this still yields a great end product that is easy to work with.
One thing you may want to play around with is raising the hydration rate to as much as 90-95%, dropping the starter amount used, which will yield a longer, slower bulk fermentation. In this approach you would only do a few stretch and folds during bulk, which will lead to a more open crumb. However, this approach may frustrate a less experienced baker as higher hydration doughs are much more difficult to work with. Commercial Yeast If sourdough starter is not available, you can use 5 grams of instant yeast instead. You also will need to add 95g flour and 95g milk to the recipe to account for the missing starter.