Bell Pepper
How To Seed, Dice & Julienne A Bell Pepper
To properly cut a bell pepper, start by topping and tailing your bell pepper and laying it on its side. Do not through away the end pieces, you can use them in any number of applications, one of my favorite being tacos for family meal.

Slice downward through the flesh of the bell pepper and roll it out flat. In the same movement, as you are rolling out the bell pepper, run your knife along the inside of the flesh, almost as you would fileting a fish, and remove the seed pod completely.
From here, simply julienne and dice to the size necessary for your dish.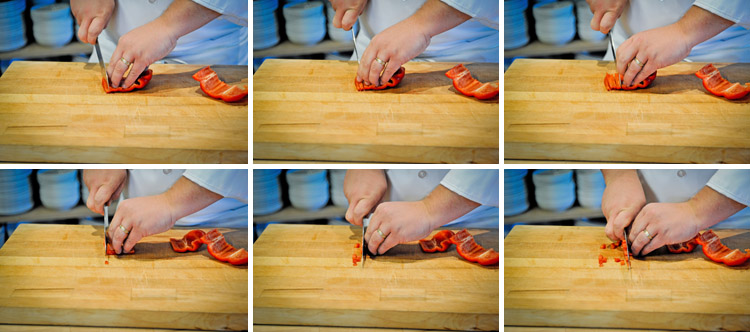 If you want to use a fine julienne bell pepper for garnish, lay flat skin side down, and remove the inner membrane. Julienne the remaining flesh as thin as possible. For a bit of extra drama, through in a container of ice water and let sit in your fridge overnight. The next day, you will find the thinly sliced bell pepper has curled into a beautiful, airy garnish.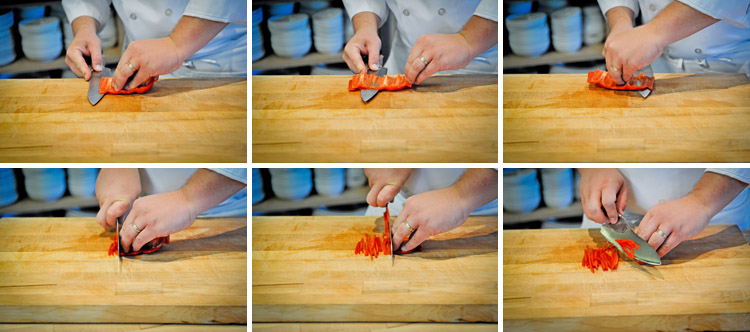 A quick video that will demonstrate how to roast and peel a bell pepper.

Technique at a Glance
Roast bell peppers over an open flame or hot grill until the skin is charred black. Do not rush this process; the biggest mistake that most people make when roasting bell peppers before peeling is under roasting. A propane or MAP gas torch will also work.

Remove charred peppers from flame, place in an appropriate sized container, cover with plastic wrap and allow to steam for 10 minutes.

After steaming period, remove charred skin by rubbing the exterior of the bell pepper with a lint free towel.

Seed and julienne.
Roasted and peeled bell peppers are great on pizza, sandwiches, hamburgers, mixed into pasta dishes and served on antipasto platters.

Related Links